Rock the Sock!
Forget the Jimmy Choos, there's nothing more luxurious and decadent than handspun and handknit socks!  Aimee Kandl, expert sock knitter and incompetent sock yarn spinner will shed some light on this titillating topic.  We'll view great moments in handspun sock history, starting 2,000 years ago and leaping over the industrial revolution straight to the present-day handspinning renaissance.  Controversial sock yarn subjects such as proper fiber choice, preparation, drafting, and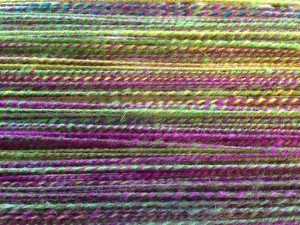 ply will be discussed in a civilized manner.  Eileen Thompson, expert spinner, will knock your socks off with her excellent technique demonstration for spinning fine and even singles.  Sizing handspun yarn, calculating knitting gauge, estimating yardage, and recommended knitting patterns will be reviewed as well.     
Links from Aimee's presentation can be found on her website.