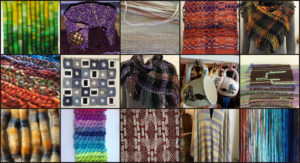 Saturdays and Sundays
May 13, 14 & 20,21
11:00 am – 6:00 pm
2802 Benbrook Dr., Austin, TX  78757
Weaving, spinning, dyeing, and felting demonstrations. Exhibit of works by guild members, including:
Mary Macaulay – felted jewelry, hats, slippers, flowers, scarves.  Some hangings too
Aimee Kandl –  hand-dyed yarns inspired from natural and manmade landscapes
Meg Wilson – Wire woven bracelets, nunofelted scarves, handwoven towels.
Sarah Monger -Hand made blending boards and pottery yarn bowls and mugs.
Gail McGlamery – Hand-dyed rovings, hand-blended rolags, hand-spun art yarns, scarves
Linda Yeatts –  Hand-woven clothing & wraps, hand-knitted accessories, custom-dyed yarns made into sculptured art.
Members of the Weavers & Spinners Society of Austin
Weaving and Spinning supply garage sale!