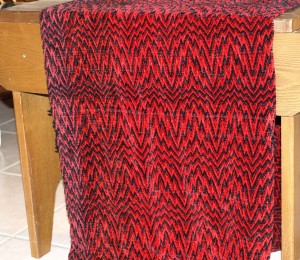 Thursday March 13, 2014  Meg Wilson is planning a program on twills for the meeting  at Northwest Rec Center.  She is an extraordinary complex weaver with lots of experience. Our project night on Thursday March 27th at the ARC will be a great time to test out your twills and try something new.
Thursday April 10  at the Northwest Rec Center Sharon Bramblett will show us the video that WSSA purchased in memory of Pam Pate on Ravenstail. She has made samples to share with us on April 28th for project night at the ARC. You might want to do a little research on your own so you know what supplies to use for trying out this intriguing Native American craft.
Thursday May 8 at the Northwest Rec Center meeting we will concentrate on band weaving. It would be cool to see ALL your samples. Hopefully we will have enough to go all the way around the room and do a members show and tell. With all the inspiration created the project night on May 22 at the ARC will be a fun learning experience, and you will have something to work on during the summer.