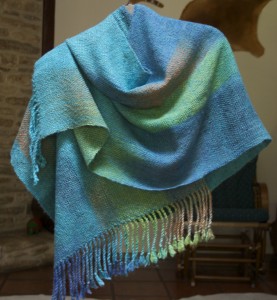 This gorgeous shawl was hand spun and handwoven by the Llama Mamas during the Kid 'n' Ewe Sheep to Shawl contest last November.
We're raffling it off as a benefit for WSSA's storage space.   One of our biggest assets is our library, looms, spinning wheels and other equipment — and when it's not checked out it needs to be somewhere. The storage unit we rent is by far our biggest expense.
Raffle tickets are available during Guild meetings or from members.
Please pick up a packet and sell 25 tickets to your friends ($1 ea or 6 for $5). The drawing will take place at WSSA's June 11 picnic – you don't have to be present to win! We've raised about $250 so far, but the shawl is worth more than that!