March 12th Program Night and March 26th Hands-on Night
Ever heard of Sprang? Well come to the March 12th program meeting at the NorthWest Recreation Center to hear Eileen Thompson's presentation on this unique textile technique.  Sprang is a stretchable fabric which looks like a cross between knitting, braiding and even weaving! The meeting starts at 6:30 with 30 minutes of social time, and we wrap it up by 8:45.
For the March 26th, Hands on Project Night, Eileen will teach us how to make this mysterious textile with such a wonderful name. Hands-on Nights are held at the Austin Recreation Center from 7-9 PM
Maps to both locations can be found HERE.
Spring has sprang!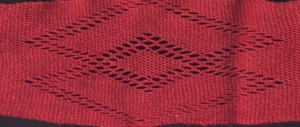 Photo credit  http://www.fiberartscenter.com/sprang/