Program Night — Felting with Marie Spaulding of Living Felt
October 13, 2016
6:30 pm to 8:45pm
Northwest Recreation Center
2913 Northland
Austin, TX 78731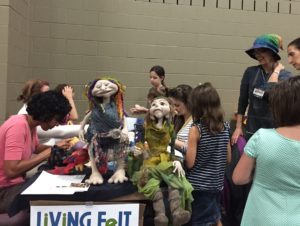 Marie Spaulding, proprietor of Austin's dedicated felt supply store, Living Felt, will be talking to us about the mechanics of felting. Why do some fibers felt faster than others? How do you choose materials for your felting projects? Marie will address these items and more. Not interested in felting? Much of this information can also be used to plan spinning or weaving projects where you either want to full your end product or want to ensure that the project does not full. Join us to learn more about this fantastic art form and meet one of Austin's top experts.
6:30-7 is social time with the meeting starting at 7. For October only, there will be small group demonstrations of how to set up and transport the newly refurbished Macomber loom.
Hands on Night — Color Theory/Color planning for a project
October 27, 2016
7 – 9 PM
Austin Recreation Center
1301 Shoal Creek Blvd
Austin, TX 78701-1790
As part of the Weaving 101 series we will be exploring basic color theory for weavers, including looking at how adjacent color can change the way your warp & weft changes, plus several hands-on opportunities to try out warp plans and samples of color interactions. Feel free to bring any potential project materials with you if you are seeking advice on planning the colorway of your next project. Although this is part of the Weaving 101 class the techniques apply to all fiber arts and can be adjusted in the class to suit your particular crafts.
As always there is room for the communal spin-in, access to the latest magazines and other library materials, and social time.