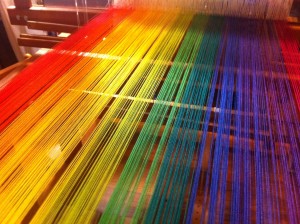 March 5th, 2016– SHARE Workshop and Demo
11:00 am to 4:30 pm
Laura's Library
9411 Bee Cave Rd
Austin, Texas 78733
This year we will be doing things a little bit differently for our SHARE workshop.   We will have a guest teacher, Yohannah Klingensmith, giving a presentation and demonstration on loom warping.  She taught this same class at CHT and it was very successful. This will take place the first part of the day.  The second part of the day guild members will "SHARE" their weaving and spinning talents by demonstration and teaching.
Yohannah has been weaving since she was ten.  She works and teaches weaving at Homestead Fiber Arts, part of the Homestead Craft Village  which features award winning woodworking, blacksmithing, pottery, leather work and quilting in addition to fiber crafts.
Yohannah's workshop is an overview of warping a loom in the back to front Swedish method.  All the basic steps will be covered from measuring the warp to dressing the loom.  During the course of the class Yohannah will demo how this is done and will share her wisdom of warping and dressing a loom
In keeping with the original theme of the SHARE workshop, after the class guild members will demo weaving and spinning.
Schedule:
11:00 to 2:30 Overview of Warping – Yohannah Klingensmith
2:30 to 4:30 Weaving and Spinning Demonstrations – WSSA members
Both portions of the day are open to the public.
Please CLICK HERE to register for the workshop (no charge for the workshop, donations welcome).  We also need members to demo the day of the workshop.