Program Meeting
July 14, 2016
6:30 pm to 8:45pm
Northwest Recreation Center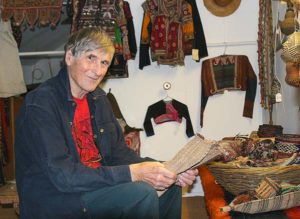 Join us learning about one of the legends in the weaving world. We will watch the film: Peter Collingwood Weaver.  Peter Collingwood spent a lifetime involved in weaving and fiber experimentation.  He is one of the leading British artist weavers.  His works have hung in many museums and galleries in the U.S. and Europe. Most of his books are considered to be definitive resources in the field of weaving, with topics ranging from sprang, tablet weaving and rug weaving.
 Picture source: VADS
Hands-on-Night
July 21, 2016
7:00 pm to 9:00 pm
Austin Recreation Center
Come join the gang! This is the night of the month where we come together to visit while working on our personal spinning, weaving and other fiber projects. Hands-on-Night is the perfect time to get help and advice from other members of the guild.
WSSA also has a wonderful library and it is open for business during the Hands-on-Night meeting.