Program Night —Tapestry Weaving
February 9, 2017
6:30 pm to 8:45pm
Northwest Recreation Center
2913 Northland Dr.
Austin, TX 78731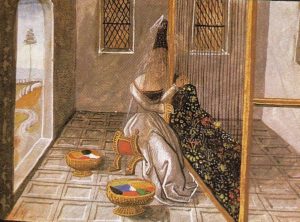 Tapestry Weaving is a combination of weaving and storytelling. WSSA's own Kissiah Carlson will teach basic techniques for this ancient form of pictorial textile creation. Join us to learn the basics and get started on your woven story!
Hands on Night
February 23, 2017
7 – 9 PM
Austin Recreation Center
1301 Shoal Creek Blvd
Austin, TX 78701-1790
Our February workshop presenter, Joanne Hall, will be leading a session on band weaving. There are not enough sets to go around but if you are prepared to share, everyone can get a chance to try out this technique. We will also have our usual informal spin-in and you can bring any other activity you may wish to work on. As always, the library will be open for reading the latest magazines or checking out books.
Please also check out the busy workshop schedule for February, including a warping day. The Joanne Hall workshops are now full.