Program Night — Three Perspectives on Color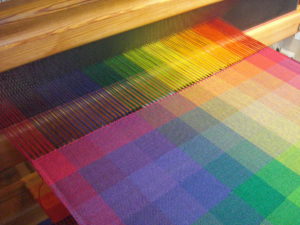 January 11, 2018
6:30 pm to 9:00 pm
Northwest Recreation Center
2913 Northland Dr.
Austin, TX 78731
Join us this month for a three perspective approach to using what we know about color and applying it to our craft, be it spinning or weaving. Marie, Mickey and Aimee will each be presenting. We open the doors at 6:30 pm for visiting and checking out what people have brought to share.  Short business meeting and program start at 7:00 pm.
Bring your show and tell, we want to know what you did during the holidays!  And remember to bring your dues if you haven't already paid for 2018.
Hands-on Night
January 25, 2018
7 – 9 PM
Austin Recreation Center
1301 Shoal Creek Blvd
Austin, TX 78701-1790
The spinning circle will be active as usual and the library will be open for reading or checking out of materials. If you have any other projects you'd like to work on, feel free to bring them instead, the more the merrier.
Weaving 101 will focus on planning for the Share Workshop  January 27-28.  Bring your yarns and ideas we'll help you develop a warping plan.