April 26 Project Night
Backstrap Weaving Overview
April  28-29 Workshop
Backstrap Weaving Workshop
Backstrap Basics Workshop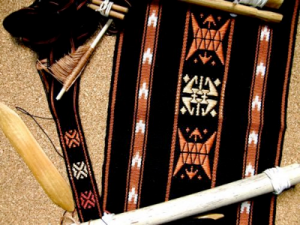 Laverne Waddington is coming to Austin to teach us some of the  backstrap techniques used by indigenous weavers in South America.  Backstrap looms depend upon the weight of the body to provide tension and despite their relative simplicity have produced works of great complexity and detail.  Laverne will explain the loom and how to manage it, as well as show us some of the patterning techniques.  We will be warping the loom for different kinds of weaving widths and styles and producing very short and narrow sample bands.
Learn more about Laverne at her website.
Dates:  Saturday and Sunday, April 28 – 29
Time:  9 am- 4:30 pm both days
Place:  Eileen Thompson's home in West Lake Hills, Austin
Tuition: $133 for members, $142 for nonmemberss
This Workshop is now full!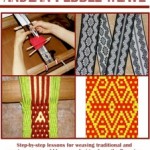 Material Fee:  $10 payable in class
Skill Level:  Beginning weaving to advanced
Laverne's book Andean Pebble Weave will be available.