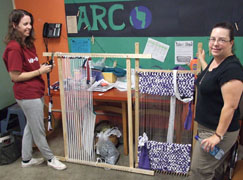 Connie Creed (black shirt) led two evenings at WSSA's regular second and fourth Thursday meetings in July 2007. Connie taught us how to make twined rag rugs according to Bobbie Irwin's Twined Rag Rugs: Tradition in the Making (Sept 2000). Karen (maroon shirt) has completed the first row of twining on her loom.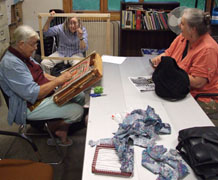 Connie recommended a synthetic warp for rugs to be used outdoor or for those rugs that would be washed because of heavy use. Her preferred fabric is recycled flannel sheets, but any fabric will work. She recommends using 4-5 inch wide strips to make the twining go faster. Some members brought strips of blue jeans, double-knit, sheets, and broadcloth shirts, to name a few. She likes using two contrasting colors or a solid and a print weft. Twining was not difficult, but learning how to turn at the end of a row was trickier. On large pieces, she recommends working from top to bottom on the top half, then turning the loom upside down and working downward again, finishing in the middle of the rug.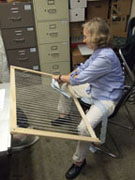 Most members made their wooden frame looms - some used pegs, some nails on which to wind the warp. Diane (left) wrapped her pegless frame with warp.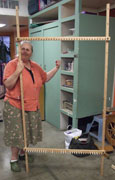 Susan's (far right) son made her a very large collapsible loom with pegs.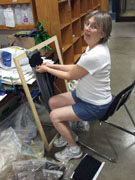 Sidne's (right) loom has nails instead of pegs. Dolores worked on a round pattern with yarn. Sharon wanted to practice the twining technique, but not make a rug, so she warped her potholder loom (below) with nylon twine and cut up one of her husband's old paisley shirts in 3" wide weft strips.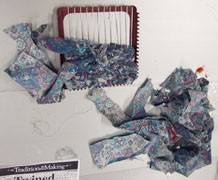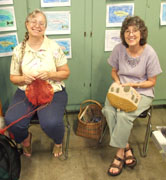 Then there were the WSSA members who attended but didn't want to twine a rug. Carol and Eileen worked on knitting projects and Meg and Sue continued organizing and cataloguing WSSA's extensive library. They and other members of the Library Committee have tirelessly spent much of the last year entering library contents onto a database and culling duplicates.